Argan oil is one of the best conditioning and healing products. It is used in cosmetology as well as by many hair maniacs at home. They say that the action of argan oil is spectacular. If you also want to check the properties and action of argan oil, start the treatment today. You won't regret it.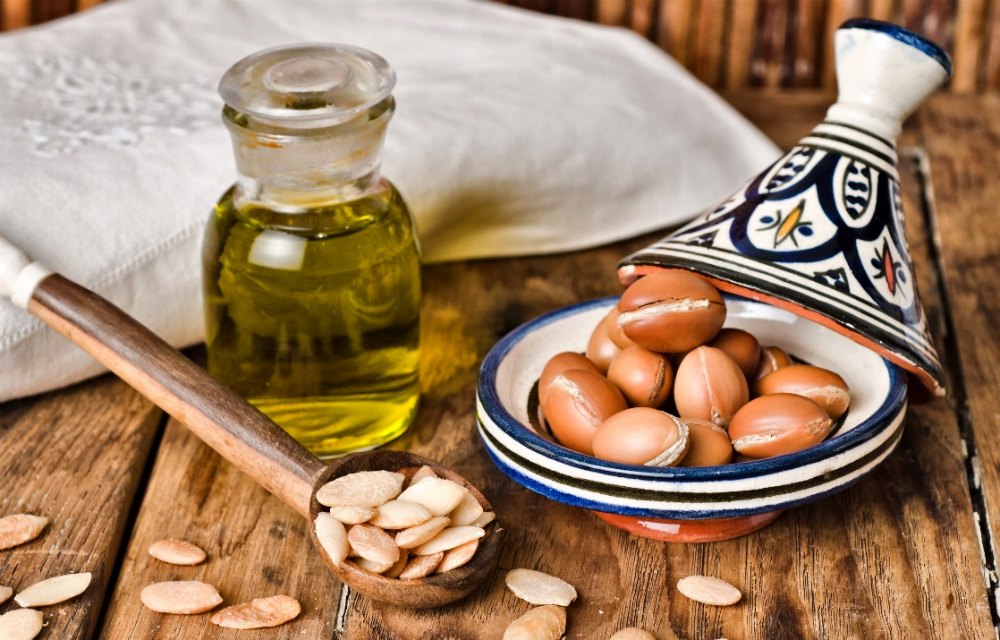 How to use argan oil?
Argan oil can be used in a few different ways. It comes in handy as a hairstyling product and scalp treatment. It is an excellent heat protection cosmetic. Argan oil prevents excessive hair loss. What is more, it is ideal for hot oil treatment and as an additive to hair masks. Argan oil is most effective on medium porosity hair. Why? This type of hair is healthy, manageable, its cuticles are bound together. Therefore, semi-penetrating oils with omega-3 and omega-6 and omega-9 acids are the most suitable. Blend of oils will bring equally good effects.
Argan oil facilitates styling your hair.
Is your hair frizzy and static? Brushing and braiding your hair is quite troublesome? Your strands are dry, curly and damaged due to colouring? Argan oil is going to help. It tames even most unruly strands, makes blow-drying and detangling easier. It even deals with tangles. All you need to do is apply argan oil – your strands will become resilient and bouncy. If you desire to have smooth and shiny hair, apply argan oil right after washing your hair. Next, you can use a round brush and dryer. Moreover, thanks to the product, you will define your curl and add volume.
How to style your hair with argan oil?
Wash your hair thoroughly, towel-dry. Apply a small amount of argan oil; more can be applied onto hair ends. Then, style your strands the way you like. How to increase volume? If you have thin and delicate hair, don't worry. Argan oil is going to help you as well. Rub a few drops of argan oil between your hands and apply to hair evenly. Blow-dry with a round brush – turn your head upside down. Next, brush and style your hair. Your hair is curly and thick? Argan oil will provide it with splendid care. Wash your hair with your favourite shampoo, squeeze out the excess of water. Divide your strands into thick sections and rub the oil in each section. When all strands are covered with argan oil, style your hair.
Argan oil and heat protection.
If you often blow-dry or straighten your hair and you don't wear a hat in summer, you must use argan oil. The product is going to protect your hair from UV radiation and heat produced by styling tools. You must rub a small amount of argan oil in your hair before heat styling or sunbathing. As a consequence, you will avoid split ends, dryness or brittleness as well as excessive hair loss caused by weak hair bulbs.
Argan oil and hot oil treatment.
Hot oil treatment is a great way to nourish, moisturise and strengthen hair and scalp. Section your strands and rub a large amount of argan oil into each of them. The dose of the product depends on the thickness, length and condition of your hair. Massage a few drops in the scalp as well. The massage is going to improve circulation, make you feel relaxed as well as enhance the absorption of the ingredients of the oil. Wash your hair with a mild shampoo after more or less three hours. If you desire spectacular effects, perform the treatment once a week.